Scout and Ozzie's litter
Please note: I have noticed, when using some other computers, that the finished format is not the same as mine
(windows XP.) This affects, in particular, the table of birth weights...........numbers seem all over the place.
I will try to resolve this soon. (Forget it !!! I have no idea what to do.)
This page will be an ongoing update on Scout and Ozzie's litter due 16th April 2008.
Scout is the daughter of Jive (Gunnerson Lyric Jive) and Digger (Wynstream Black Watch ) and this will be her first litter.
Scout is a gentle girl who loves attention but is not pushy.......... you just feel her presence when she wants a pat and cuddle.
Her best friend is her sister Rumer, the dark beauty, and the two still curl up together every night.
Scout is incredibly fit and amazes us with her jumping ability............ we feel she is part kangaroo!
We will endeavour to keep an up to date diary and photo account of Scouts puppies..............................................
APRIL 7TH
Scout's tummy doesn't look too big...... until she sits down!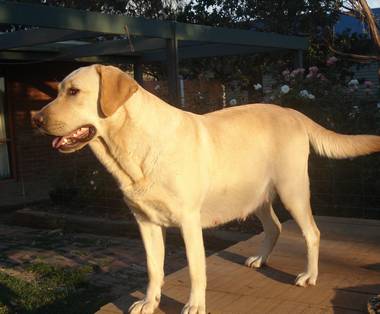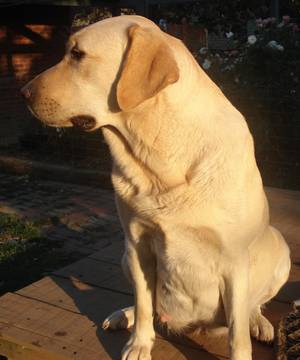 All is well..................Scout has moved into the shed tonight in anticipation of the big event................but she has taken
sister Rumer with her as a girl needs a best friend at a time like this!
APRIL 9TH
Scout's tummy continues to grow and she is beginning to feel the weight
of her puppies. She chooses to walk most of the time but still decided to
run after a cheeky pigeon tonight! She is sleeping in the whelping box so
she becomes familiar with the shed and it's smells. Her appetite has
increased and she is now eating 2 meals a day.
And yes.........she still jumps up on the log!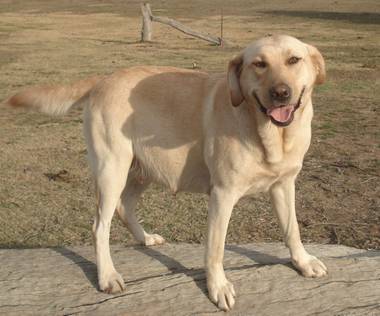 UPDATE !!! Friday 11.4.08 11.30am...........
SCOUT IS IN EARLY STAGES OF LABOUR
Scout showed signs of wanting to nest this morning (under the trailer) and has progressed to
heavy panting and obvious pre delivery unsettled behaviour. We will stay with her on and off
so she remains calm. Rumer is waiting in the wings as now Scout has to go it alone.
April 11th 4.00pm........Scout is managing really well and has 5 beautiful pups so far. She is settling into a routine
of washing and snuggling the puppies between births. Is she finished ??? I think not !
April 11th 6.30pm..........7 BEAUTIFUL PUPS
( 5 days early but really only 3 days early if she conceived on the first of the 3 matings.)
All the pups seem well, active and are feeding. At this stage it is wise to point out that
the first few days of a pups life are fragile as they adjust to the outside world
and Scout adjusts to them.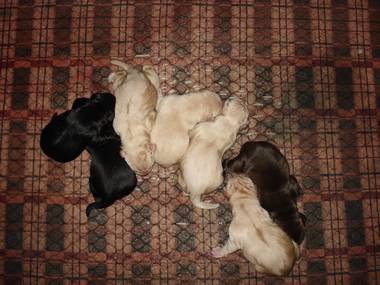 April 11 April 12 April 13th April 14th April 15th April 16th April 17th April 18th
12.52 pm # 1 c.p.yellow male N 530 610 655 740 785 860 915 980
2.01 pm # 2 black female 565 620 655 665 640 665 690 755
2.34 pm # 3 chocolate female 510 540 580 640 660 710 780 845
2.49 pm # 4 black male 482 535 560 615 695 760 855 910
3.07 pm # 5 yellow male M 525 550 595 675 745 820 885 970
3.39 pm # 6 yellow male B 510 540 580 655 690 795 860 920
4.11pm # 7 c.p.yellow female 585 610 630 740 795 845 915 990
April 12th 10.30am..........mother and babies had a good first night in their "igloo" (photo to come.)
April 13th 10.30pm.........Scout is being an outstanding mum and the pups are all doing well.
Photos should say it all!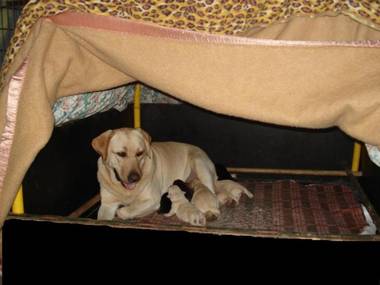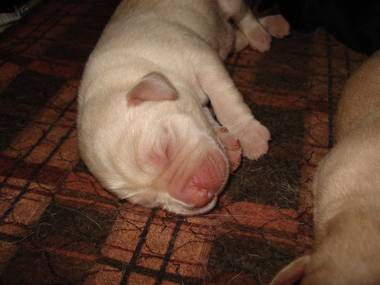 April 15th...........Scout is excelling as a first time mum. She now spends a small amount of time each day
with her "pack" but is happy to be with her pups otherwise. New photos to come April 17th !
April 16th..........All pups are thriving and are very settled. Scout is a calm, attentive mother but is not over protective,
she is happy to share her babies with us. She loves her short breaks away from her pups but is pleased to
return to them............Will post photos of Scout and pups tomorrow.
April 17th............Sorry, no photos yet. All pups are continuing to gain weight and the litter is quiet and settled - always a
good sign! Weighing is tricky as the pups squirm alot in protest at being removed from their nest.
Discovery tonight that two of the yellow pups are chocolate point yellows...........that is,
their noses, eye rims and lips will be a liver colour instead of black.
April 18th..........Beautiful babies, so relaxed and settled and Scout is a wonderful mum. From here we will go to weekly
weighings. We will endeavour to have regular photos but until the pups open their eyes at 2 weeks there is
little to record.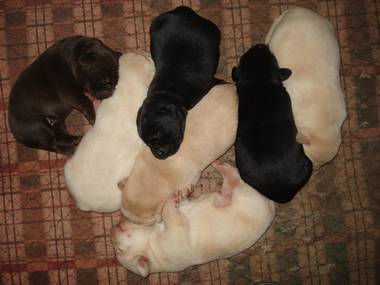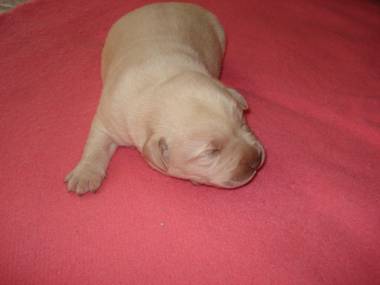 April 21st.........Scout has decided that she does not need to spend all her time in with the pups and has rearranged her
area - so the leopard print blanket is off the igloo and on the ground for her. She now has an area of her own.
On Sat she appeared to have mastitis around one teat (of which she has 10 instead of the usual 8) however
with veterinary consultation and regular temperature taking it seems to have subsided without medication.
At no time did she appear unwell or lose her appetite. Photos of 2 pups below!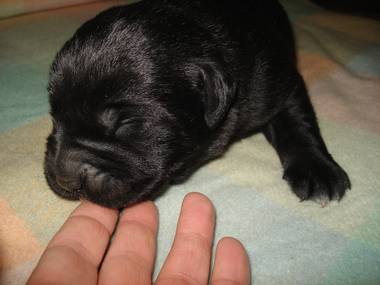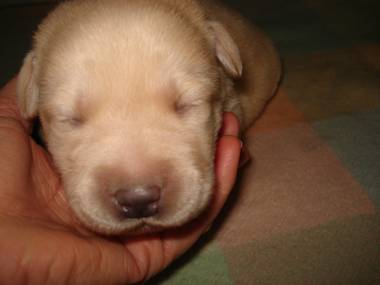 April 22nd...........Pups are well and GROWING ! It is amazing to see them find the corner of the whelping box to toilet.......
especially since they go by smell alone. They are beginning to use their legs more and more, although they
hate to be away from each other...........as the photo shows. Scout is absolutely well and being a great mum.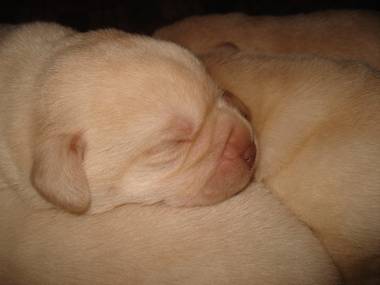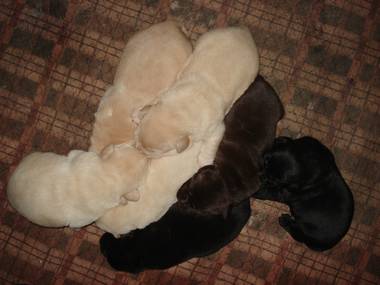 April 24th..............These guys are slugs !!!!!! No wonder Scout loves time out from them as they are so boring.
April 25th...............2 weeks old and as you can see from the photos below, they have grown alot and their eyes are
beginning to open. When awake the pups are trying to pull their legs under them so they can stand
and a few can even hold their own body weight for a few seconds. Much to their disgust they were
wormed (it is caramel flavoured !) and had their toenails trimmed so they don't scratch Scout's
tummy while they feed. They also had their weekly weigh in.
PUP #1 1590g #2 1315g #3 1365g #4 1620g #5 1710 #6 1490g #7 1585g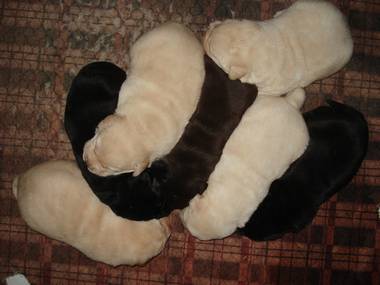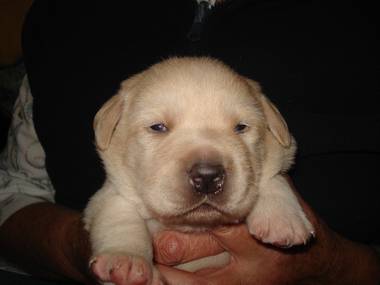 May 2nd..........weekly weigh in
PUP #1 2055g #2 1865g #3 1870g #4 2070g #5 2295g #6 1930g #7 2070g
May 6th......... Just a note to fill everyone in and point out that I am not slack with photos and updates but that I badly injured
my thumb last week and had plastic surgery to repair the nerve and ligament. I am now able to do mostly
everything that one can do with one hand but photographing wriggly pups is one of the more challenging jobs.
The pups are just divine and seem very mature for almost 4 weeks old. They are still a bundle most of the time but
when they are active they are enchanting. They now growl and bark if startled and wag their chunky little tails
when they are patted and talked to. Most dislike being handled as they feel insecure but this insecurity passes
with time and more handling. They still have poor vision and rely on smell and hearing. Scout remains well and
loaded with milk. She is such a calm mum although she is protective of her pups if she thinks another dog is
heading into the shed.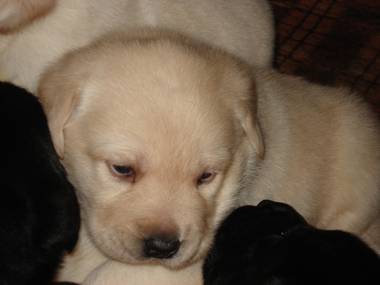 May 9th.........Big move for the babies-----------they are now out of the whelping box and into a bed that they can freely move
into and out of. This move allows the pups to leave their sleeping area completely to toilet, much nicer for them
and Scout. Scout's natural instinct is to clean up after her puppies but this "service" diminishes when the pups
are started on solid food which will happen this weekend. Scout now has the choice of being in with her pups or, by
jumping over a small fence, she has her own area away from the constant bustle of the pups. At 4 weeks of age
the pups are full of bounce and curiosity. They love their toys and so does Scout who has chewed a number of them
already. Really she should be past that at her age! They respond really well to my voice and love to smell my hand
and clothes, a taste of the world outside.
We gave them their second worming and this time it wasn't so yucky.........a maturing palate perhaps?
Their weekly weigh in showed an average weight gain of about 500g.
PUP #1 2670g #2 2490g #3 2470 #4 2720 #5 2820 #6 2540 #7 2600
One photo for now but will try to get "group" shot as well as blacks and chocolate. Yellows just more photographic.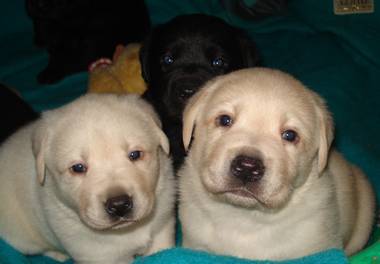 May 13th..................Pups outside for the first time today in the beautiful Autumn sun. Scout was really concerned at first
however as the pups relaxed, she relaxed. After the pups 'stacked up' initially their curiosity got the
better of them and they explored their surroundings-----particularly with their noses.
They are keen to come when called........expecting dinner.........but are happy with a rub and cuddle!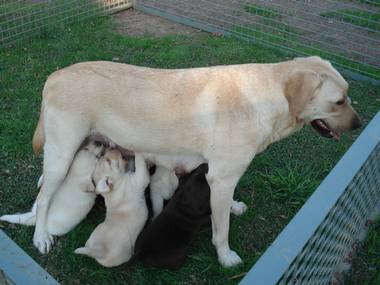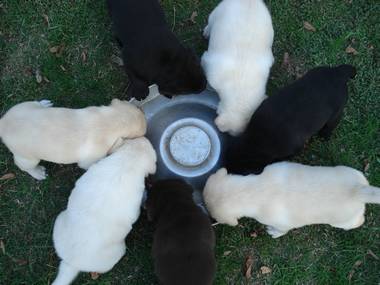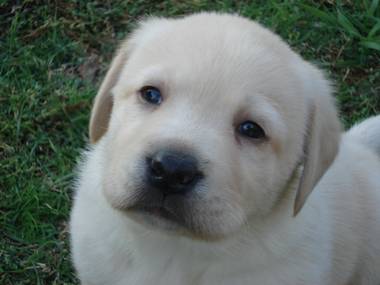 May 16th.............." Oh we are sooooo big now that we hardly fit on the scales ! " What little piggies all the pups are now and how
they love their food. Mealtimes are the highlight of the day however they are always so excited when they
are played with that company comes a close second. Loud noises which frightened them a week ago
(such as the shed door slamming and dropping a dinner dish) and would send them scurrying behind their bed
now only startle them momentarily as they are much braver and more comfortable in the world. It is lovely to
see them run to me when they hear my voice and their tiny tails wag like humming birds wings.
Pup #1 3850 #2 3570 #3 3390 #4 3770 #5 3670 #6 3620 #7 3330
May 19th.............A very cold and wet weekend has meant the pups had no outside time at all. This means resourcefulness on my
part to ensure there is lots to occupy puppy minds! The favourite was of course their first large meaty bone
which entertained until they fell asleep on them. Even though there was one for each pup they were happy to
chew two to a bone. Many new toys have been introduced, from a rope suspended from the ceiling for tug of
war, to teddies and soft squeaky toys. Funny then that they should ALL want to chew my boots when I am
with them! Will take more photos when I can get the pups outside.............
May 20th................ A short visit outside during a break in the weather, to a place less muddy and a little further away from the
shed....... hence the required transport.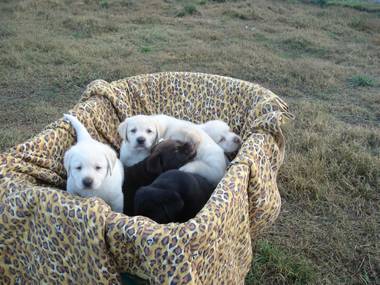 May 23rd...............What a big day for little puppies. Off to the vets for their 1st vaccination and microchipping. Lovely vet
Jackie and nurse Bree examined each pup thoroughly while laughing off puddles on the floor, attacks on
shoes and pants, rearrangement of all computer and electrical cords and general chaos.
Surprise! Surprise! that all the GIRL pups took the microchip needle in their stride while the boys cried
out loud. Honestly !!!! Jackie has chosen her favourite pup but she would never divulge such sensitive
information----unless it was a really good bribe. Updates on weights will be added tomorrow and more
photos very soon.
May 25th........... It's official ~~~~~~ the little pups are too BIG for my scales so weighing is now out of the question.
Another day outside in the mild weather with two special visitors, the families of pups # 2 and #7 came to
meet and cuddle their babies................"do we have to wait another two weeks?"
Another worming with help from our friend Jack and so many people to play with.
Meat and sardines (omega 3 and lovely fish oils) for breakfast and mince and vegies for dinner. We are NOT
fat we are well boned and healthy.
May 31st.......... Last day of autumn brings pups into their big new yard outside.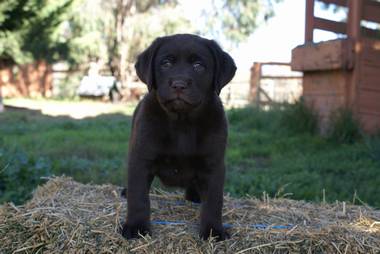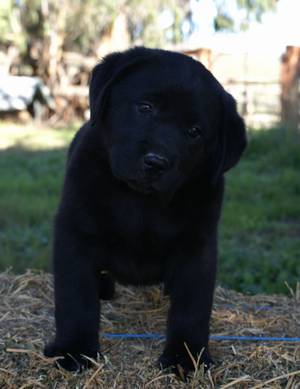 The photos above show two of the pups posing for their passport photo. Today saw the pups having
chicken necks for dinner, all managed well and no one too greedy! My last week with these babies
which is sad for me but inevitable and of course eagerly awaited by their new families. Thanks to Jen
for lending me her fantastic camera.
June 1st...........
...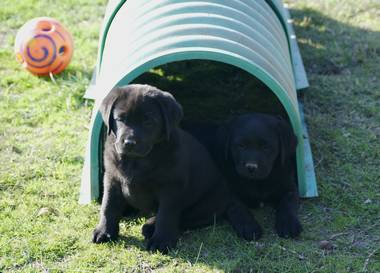 Belatedly ....................a photo of Dad ---- Ch. Blackhills Ozzie Ozzie Ozzie "Ozzie" owned by Marj Deignan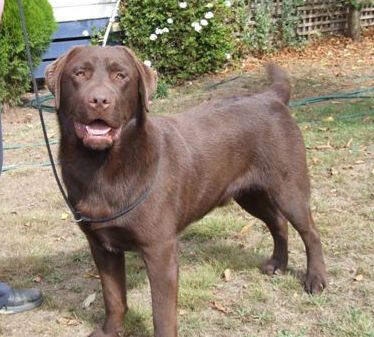 June 9th............. The weekend finally arrived and the pups, 8 weeks old on the 6th, have reached the age where they can
leave us and go to their new homes.
The first to collect her pup (#7) was 13 year old Claire. Claire started emailing me a month before the
pups were born and was sweet enough to send me some photos of Sam, their previous lab, who was one
year old when Claire was born and lived until Claire was 10. Claire emailed me 41 times and called a few
times too --- what a lucky pup to be so eagerly awaited ! Claire has named her pup "Belle."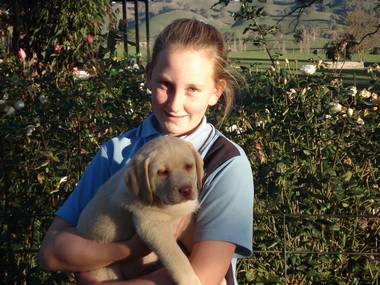 Next pup to go was "Chockie" (#3) our only chocolate pup. Ben and Amy first contacted us back in
February and visited us before the pups were born. Well....... it is important to meet mum and the extended
family to make sure everyone is happy. Recently Ben suggested he was a little concerned that his work would
query the number of hits on the Gunnerson website as he checked for updates on the litter.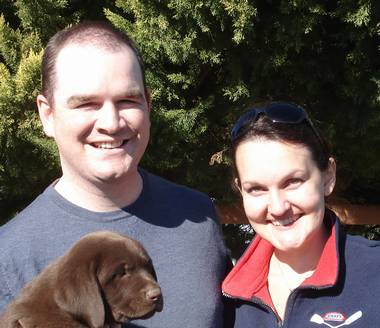 Jennifer and Arthur also contacted us back in February for a chocolate male. When nature thwarted
this idea (no choc male born) and after a visit to us on their way home from a holiday, both were keen to
adopt the CHUNKY chocolate point yellow (#1). Arthur's warm way of making you feel you've been mates
for ages and the interest of their grown up children confirms our feeling that "Darcy" is one lucky pup.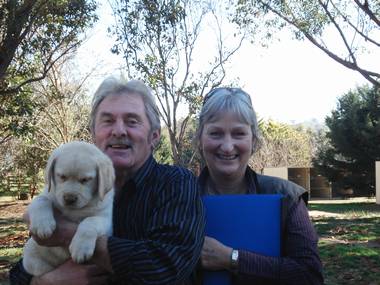 Last to leave us this weekend was "Rosie" .........a very special pup for a very special family. Deb and
Andrew and their children Sean and Alanna adopted another pup of ours, SABINE, almost 3 years ago.
Sabine was a pup who required extra love and care in her early days and as a testament to this care and
the continuing love of her 'life' family, Sabine grew into a beautiful, loving, family dog.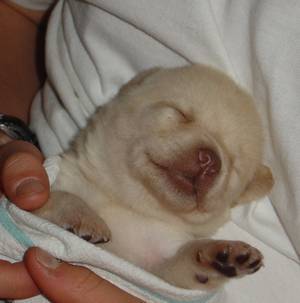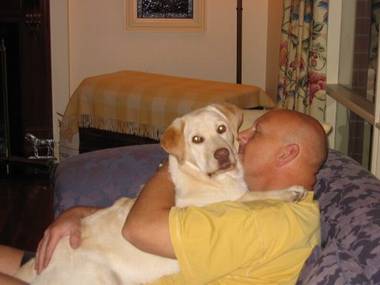 Very suddenly and prematurely Sabine died early this year and her family are all still trying to come
to terms with her absence. As many people will understand, the void left behind is enormous and the
decision of when it is the right time to share your life with a new friend is a very personal one.
Welcome Rosie.....................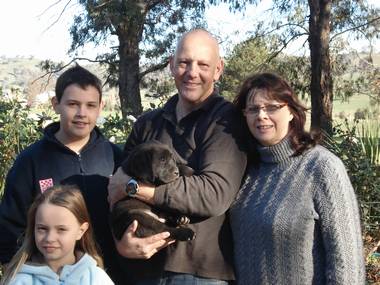 Bruce, Carolyn and Jasmine in Hobart, Tasmania contacted me in March in the hope of finding a new
spirit to share their lives. As this pup was to become a possible stud dog we had many many emails
and conversations discussing each male and their progress. Jasmine and Bruce even charted the weights
and sent me info on the % increase of each pup over the first week. Finally on Friday 13th June "Blizzard"
(#6) began his big life journey and arrived into the safe hands of Jasmine. So far I have been the
recipient of daily photos which show Blizzard in his new home and being totally loved to bits !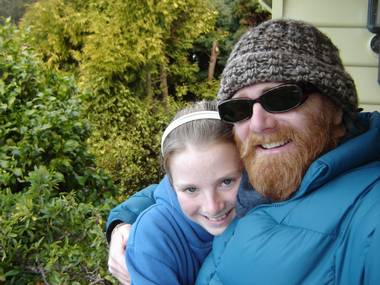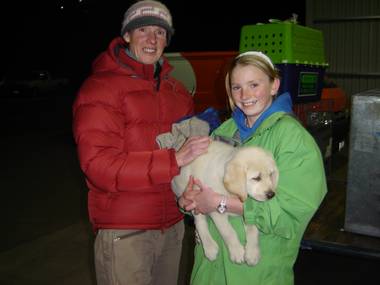 The last 2 pups met their families on Saturday 14th June.
Andrew, Melissa, Samantha and Georgina met, for the first time, Scout and their black boy (#4) Pedro.
It was love at first sight as this black boy in his little tuxedo (he has a small white patch on his chest)
showed himself off. Andrew was pleased with his lovely head and the girls were just pleased !
Melissa emailed me on the 16th "He has settled into our family so easily, it feels like we have had him
longer than just a couple of days. He is so well behaved & wonderful with the children, we all love him."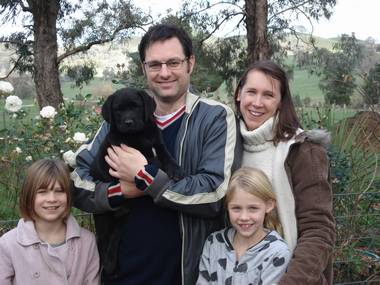 Last puppy was #5, the pup who was photographed so often on the webpage. He did in fact, in the presence
of many witnesses, sit himself perfectly in front of another families photo. He LOVES the camera !
Ian, Melanie, Lucas and Chelsea were committed to making an informed decision about bringing a dog into
their family and started by visiting another family with one of our pups/dogs..............Bounce. (Thanks Murray
and Anne.) Once the decision was made it was then a matter of waiting to see which pup was heading off to
Tasmania and which pup was to be theirs. "Dash" is now a part of their family.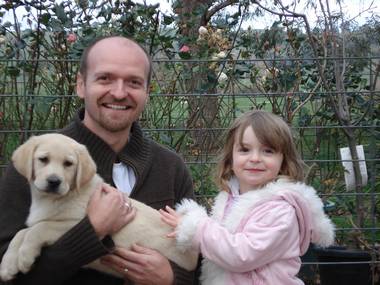 So : Scout's pups have moved on................. 7 happy families..............and no puppies for us. How is Scout ?
As I emailed to Chockie's family
"No pups left now……………………Scout seems fine but has become a free spirit again taking herself off with Rumer
for little wanders. Ahhhhhhhhhh the life of a single woman! "
If space permits we will post updates and photos of the pups as they grow ---------------------------
Two new photos of pups emailed to me by their families..............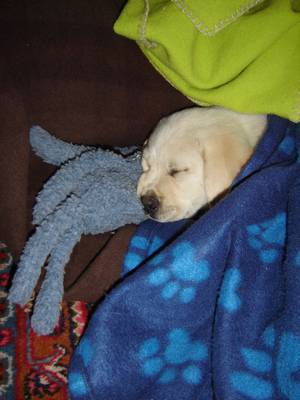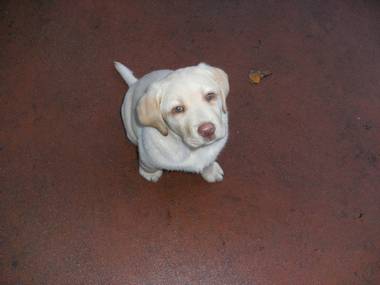 Todays (June 22nd) photo of the beautiful Rosie !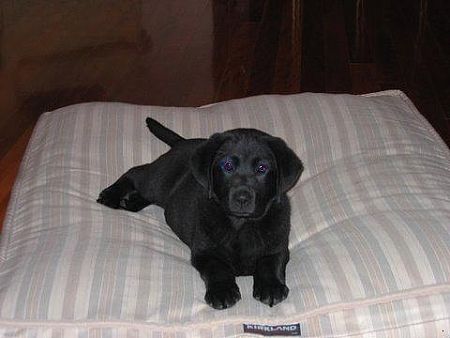 April 11 2009 is the day Scout's pups turn 1.
Below are 1st birthday photos and updates on the pups!





According to his owner, "Blizzard" loves to play 'chasie,' find dead wallabies and play with other dogs.



Of "Darcy" Jennifer writes:

'We are very pleased with him, he'll never be a guard dog and his idea of hunting is chasing bull ants, anything bigger he'd rather walk round it, birds included!

His nature is perfect and he is very loyal to Arthur, never leaving his side while he's working in the garden.

We actually think Darcy missed his calling, as he would have made a great guide dog.'
Ben & "Chockie"

'It is amazing that a year has already gone by, don't know what life was like without our brown family member.'
Claire with "Belle" on their morning walk where Belle usually finds something rotten to carry around!
Claire still says, 'Thank you for a beautiful dog.'


Deb says of "Rosie" 'as you can see she is beautiful, she is a funny girl, loves the pool and the kids but she is mum's girl.'
"Dash" with Lucas & Chelsea at Gundagai.
Ian says 'he's very playful and obedient and great with Chelsea even though he is heavier than her.'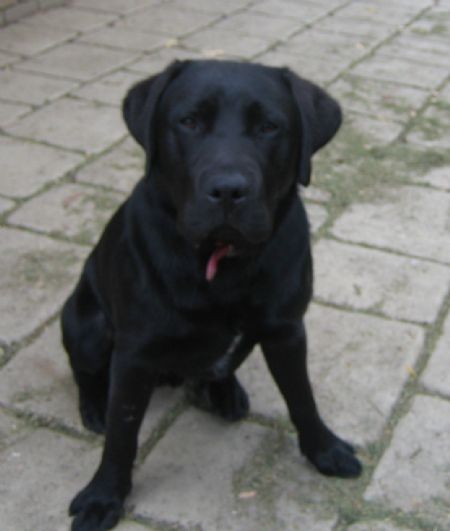 Our update on "Pedro" from Melissa is as follows.......'as you can see he has grown, unfortunately he doesn't realise he has grown and is still a puppy in a big dogs body.
I am constantly getting comments on how beautiful & shiny his coat
is, he looks a very healthy dog. He is truely loved and part of the family. He has a lot of character but is also obedient.'